Daily Manna
21 Days Fast: Day #14
Saturday, 25th of December 2021
408
92
4713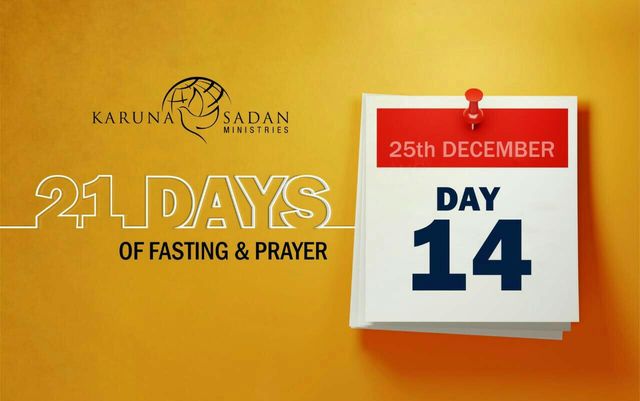 NATION and CITY
Therefore I exhort first of all that supplications, prayers, intercessions, and giving of thanks be made for all men, for kings and all who are in authority, that we may lead a quiet and peaceable life in all godliness and reverence. For this is good and acceptable in the sight of God our Savior, who desires all men to be saved and to come to the knowledge of the truth. (1 Timothy 2:1-4)
When you do something that is good and acceptable in the sight of God our Savior, then you are a close friend of the Lord. How do I know that? Lord Jesus said, "You are My friends if you do whatever I command you." (John 15:14)
Also the Bible commands us, "Seek the peace and prosperity of the city to which I have carried you…. Pray to the LORD for it, because if it prospers, you too will prosper." (Jeremiah 29:7 NIV) You see, when you pray for the city and nation that you live in, you and your loved ones will prosper too.
Repent:
If you have spoken or are in habit of speaking ill about your nation or city, then you must ask the Lord to forgive you. (Spend some time on this)
Scriptures for Meditation
Psalm 33:12
Isaiah 2:4
Revelation 22:2
Prayer
Repeat every prayer missile till it comes from your heart. Only then move on to the next prayer missile. (Repeat it, personalize it, do this with each prayer point for minimum 1 minute)
Father, we ask You to direct the hearts and minds of the leaders of India (mention the name of your nation) to make decisions that will lead the country in Your ways and according to Your Word. In Jesus' name.
Father, Your Kingdom Come and Your will be done in the nation of India. In Jesus' name
Father, let the nation of India be awakened to the Gospel. In Jesus' name (Joel 3:12)
Let India hear the voice of the Lord! In Jesus' name (Isaiah 1:2)
Father, deliver India from the bondage of corruption into the glorious liberty of the children of God. (Romans 8:21)
Father, send forth Your Spirit of Truth upon India to bear witness of You, In Jesus' name. (John 15:26)
Father, pour out Your Spirit upon the nation of India and convict the nation of India of sin, of righteousness, and of judgment. (John 16:8)
Father, cause India to repent and to turn away from their idols and man-made philosophies. (Ezekiel 14:6)
Father, cause Your people to rise up all over India. In Jesus' name. (Numbers 23:24)
Father, send Your ambassadors from India into all the nations of the world. (Jeremiah 49:14)
Father, let every knee and tongue in India bow and confess that Jesus Christ is Lord! (Philippians 2:10-11)
Father, let India be filled with the knowledge of the glory of the Lord as the waters cover the sea. In Jesus' name. (Habakkuk 2:14)
Father, let all the nations be blessed through Your people in India. In Jesus' name. (Galatians 3:8)
Repeat the same prayer points, now mentioning the name of your city instead of the nation.
Praise and thank the Lord for the answers to these prayers.
GREETINGS
The Perfect One came into this Imperfect World for you and me.
He alone is the Reason for this Season
A Blessed and Spirit-Filled Christmas 2021 to you all from my family and me.
Joy to the world, the LORD has come….. (Sing)
Most Read
●
21 Days Fast: Day #10
●
The 7 Spirits of God
●
Guard Your Heart Diligently
●
Why Great Men and Women Fall - 1
●
Desiring to See Jesus 
●
Facing the Opposition
●
Do This One Thing
➤