Daily Manna
Day 02: 21 Days Fasting & Prayer
Tuesday, 13th of December 2022
324
172
2741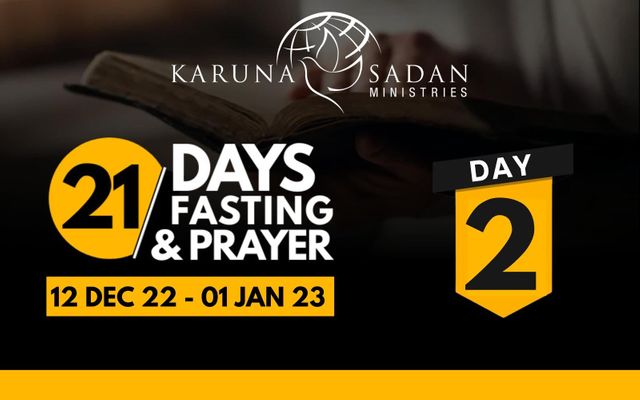 Breaking satanic Limitations
"All right, go ahead," Pharaoh replied. "I will let you go into the wilderness to offer sacrifices to the LORD your God. But don't go too far away..." (Exodus 8:28 NLT)
Today's scripture for the day reveals how the Israelites were held as slaves by Pharaoh, who imposed a limitation on them and declared that they could not go very far. Unfortunately, many Christians are ignorant of the operation of satanic limitations placed upon their lives.
What are satanic Limitations?
A satanic limitation places restrictions on a person, place, or thing. It can stop good things from coming to a person. This demonic operation can also halt or slow down a person's progress.
Always keep in mind that we are not to be ignorant of the devil's schemes. (2 Corinthians 2:11) Also, Christ was made manifest so that the works of the devil might be destroyed (1 John 3:8). Therefore, whenever we talk about the devil's operations, it is not to magnify the devil but rather to enlighten Christians about them and to destroy them.
Any satanic limitations that are affecting your work, health, family, or quality of life shall be destroyed today, in Jesus' name.
3 Major Types of satanic Limitations
This is when an individual is restricted. The limitation can be self-inflicted (out of ignorance) or imposed by demonic forces.
A man once joined us on a trip to attend a gospel program in another state of India. We finished our check-in and other formalities and were waiting to board the flight. As soon as the time came to board the flight, this man got breathless, and something started happening to him. We left him with his wife, who was assisted by some professional medical people and proceeded to board. It was a short flight, and as soon as we landed, I called his wife to enquire how he was. To my surprise, he picked up the phone and said, "As soon as the flight took off, I surprisingly was ok."
During one of our deliverance meetings, this man was totally delivered. The spirit of God revealed that no one had ever travelled by flight in his family line, and there was a satanic limitation placed upon his life.
This is a restriction placed on a group of people, such as a family, village, town, or even a nation. "Sometime later, however, King Ben-hadad of Aram mustered his entire army and besieged Samaria. As a result, there was a great famine in the city." (2 Kings 6:24-25)
3. Economic or financial Limitation
Symptoms of economic limitations include unemployment, poverty, recurring financial debts, and crises.
By the power of God, I decree over your life any satanic limitation against your life shall be destroyed by the fire of the Holy Ghost in Jesus' name.
Biblical Examples of satanic Limitations
Joshua and the Israelites
1Now Jericho was securely shut up because of the children of Israel; none went out, and none came in. 2And the Lord said to Joshua: "See! I have given Jericho into your hand, its king, and the mighty men of valor. (Joshua 6:1–2)
The Israelites encountered a significant setback and could not break through Jericho because the city's gates were locked, and the wall was formidable. Without the help of God, the limitation could not be destroyed; it was beyond military might.
"Then the Lord showed me four craftsmen. And I said, "What are these coming to do?" So he said, "These are the horns that scattered Judah so that no one could lift up his head; but the craftsmen are coming to terrify them, to cast out the horns of the nations that lifted up their horn against the land of Judah to scatter it." (Zechariah 1:20-21)
The demonic horns prevented people from rising; it was these limitations that limited the destinies of people. God divinely showed the prophet what was happening in the spiritual realm and why the people were physically struggling with their finances, health, and careers.
Without a divine revelation, it would be difficult to understand the operations of satanic limitations.
Prayer
Repeat every prayer missile till it comes from your heart. Only then move on to the next prayer missile. (Repeat it, personalize it, do this with each prayer point for a minimum 1 minute)

1. Praise and worship God. (You can play some soaking music to help you)

2. Any limitation placed against my finances, health, and progress be destroyed by fire in Jesus' name.

3. Lord, expose any hidden limitation working against my life in Jesus' name.

4. By the blood of Jesus, I break any satanic limitation working against my life in Jesus' name.

5. By the Spirit of God, I scatter anything blocking my advancement in Jesus' name.

6. Anything blocking good things from coming to me, I destroy them now by fire in Jesus' name.

7. Lord, empower me to run and not be weary, to walk and not faint in Jesus' name.

8. I receive supernatural strength to break through barriers and limitations in Jesus' name.

9. By the Blood of Jesus, I silence, every altar, and strange voices, blocking me from advancing in Jesus' name

10. Pray in tongues for at least 10mins.
Most Read
●
God El Shaddai
●
The 7 Spirits of God
●
Gossip Ruins Relationships
●
Remain Hot in the Spirit
●
Praying for Others
●
A Guaranteed Yes
●
Change your Destiny
➤