Daily Manna
Day 09: 21 Days Fasting & Prayer
Tuesday, 20th of December 2022
283
161
2555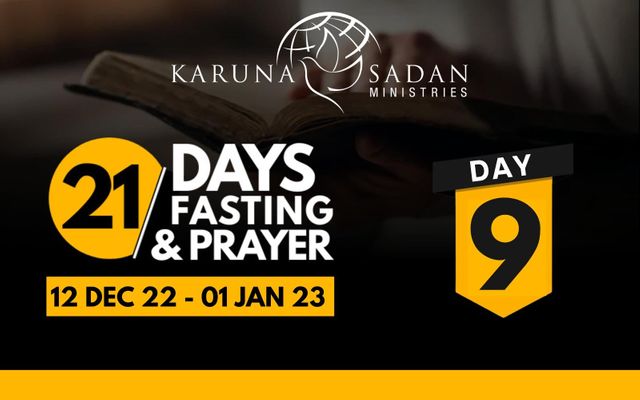 Connecting to Your Destiny Helpers
"My help comes from the LORD, who made heaven and earth!" (Psalm 121:2 NLT)
Your destiny is what God intended for you to achieve and become. It is God's blueprint for your existence. Every person is designed to both help and be helped. No one can fulfil their destiny in isolation.
God created us to be dependent on Him, so there are many things that we cannot do with our human strength. We are limited in strength, knowledge, wisdom, and abilities. If we depend on God, we can boldly declare like Paul and say, "I can do all things through Christ who strengthens me." (Philippians 4:13). God is our source of help, and He sends the help to us through different channels example. men, angels, nature, etc.
The ministry of destiny helper is all over the Scriptures, and we shall study some of them today.
Biblical examples of destiny helpers
Adam was the first person to enjoy the ministry of destiny helpers. Eve was made to help Adam. She was designed as a "helpmeet" for him. (Genesis 2:18)
In Genesis 40:14, after Joseph interpreted the dream to the butler, he pleaded for the help of the butler and that he should seek how he would leave the prison, but the butler forgot about him for two years (Genesis 40:22, 41:1, 9-14). People will only remember you when God has helped you.
David enjoyed help at different times in his life. He understood what it means to enjoy help, which is why he wrote about help at different times.
For at that time, they came to David day by day to help him, until it was a great army, like the army of God. (1 Chronicles 12:22)
15 When the Philistines were at war again with Israel, David and his servants with him went down and fought against the Philistines; and David grew faint. 16 Then Ishbi-Benob, who was one of the sons of the giant, the weight of whose bronze spear was three hundred shekels, who was bearing a new sword, thought he could kill David. 17 But Abishai the son of Zeruiah came to his aid, and struck the Philistine and killed him. Then the men of David swore to him, saying, "You shall go out no more with us to battle, lest you quench the lamp of Israel." ( 2 Samuel 21:15-17)
You are not the one to choose a destiny helper, it is God who will link you to whoever He has prepared to help you.
I strongly believe that after today's prayer, you will begin to enjoy amazing help from God. Closed doors shall be opened again, and people will begin to do good to you in Jesus' name.
Types of Help
God is our major source of help. If God helps you, man must help you. Instead of going around begging people to help you, spend some time in prayer seeking the help of God. God can stir the hearts of anyone to help you.
Fear not, for I am with you;
Be not dismayed, for I am your God.
I will strengthen you,
Yes, I will help you,
I will uphold you with My righteous right hand.' (Isaiah 41:10)
When a man's ways please the Lord,
He makes even his enemies to be at peace with him. (Proverbs 16:7)
God told prophet Elijah that He had prepared a widow to sustain him. Everybody needs help, and when you depend on God, He will send you to the right person He has prepared for you. (1 Kings 17:8-9)
My friends, we want you to know that the churches in Macedonia have shown others God's gift of undeserved grace. 2 Although they were going through hard times and were very poor, they were glad to give generously. 3 They gave as much as they could afford and even more, simply because they wanted to. 4 They even asked and begged us to let them have the joy of giving their money for God's people. 5 And they did more than we had hoped. They gave themselves first to the Lord and then to us, just as God wanted them to do. (2 Corinthians 8:1-5 CEV)
Joshua and the Israelites enjoyed angelic help in destroying the walls of Jericho.
13 One day, Joshua was near Jericho when he saw a man standing some distance in front of him. The man was holding a sword, so Joshua walked up to him and asked, "Are you on our side or on our enemies' side?" 14 "Neither," he answered. "I am here because I am the commander of the Lord's army." Joshua fell to his knees and bowed down to the ground. "I am your servant," he said. "Tell me what to do." 15 "Take off your sandals," the commander answered. "This is a holy place." So Joshua took off his sandals. (Joshua 5:13-15)
Today as you pray, I prophesy the Lord will release angelic help for you. What seemed impossible, unachievable, will happen in Jesus' name.
Nature responds to the voice of God and will work for the good of His people when the need arises. The scripture says all things work together for our good. All things include nature; we only need to believe and appropriate the blessings available to us in the scriptures.
But the earth helped her and swallowed the water that had come from the dragon's mouth. (Revelations 12:16)
The Lord was helping the Israelites defeat the Amorites that day. So about noon, Joshua prayed to the Lord loud enough for the Israelites to hear: "Our Lord, make the sun stop in the sky over Gibeon, and the moon stand still over Aijalon Valley." So the sun and the moon stopped and stood still until Israel defeated its enemies. This poem can be found in The Book of Jasher. The sun stood still and didn't go down for about a whole day. (Joshua 10:12-13)
Further Study:
Psalm 121:1-8, Psalm 20:1-9, Ecclesiastes 4:10, Isaiah 41:13
Prayer
Prayer Points
Repeat every prayer missile till it comes from your heart. Only then move on to the next prayer missile. (Repeat it, personalize it, and do this with each prayer point for a minimum 1 minute)
1. Father, please send me help from your sanctuary in Jesus' name.
2. I paralyze the operations of destiny killers around my life in Jesus' name.
3. Anything blocking or covering me and my destiny helpers, be destroyed by the fire of the Holy Spirit in Jesus' name.
4. Any evil voice, accusing me before my destiny helpers, be silenced in Jesus name.
5. Oh Lord, by your favour, connect me to the helpers you have prepared for my next level in Jesus name.
6. Lord, raise a voice for me in places where decisions are taken concerning my life in Jesus' name.
7. Any power manipulating my helpers against me, I destroy the influence of those powers in Jesus' name.
8. My destiny helpers shall not be killed, and no evil shall happen to them in Jesus' name.
9. I forbid every spirit of promise and fail from operating against my life in Jesus' name.
10. Father, release your holy angels to go and influence people in my favour in Jesus' name.
11. Destiny helpers of the Karuna Sadan ministry come forth now in Jesus' name.
12. I apply the blood of Jesus upon every person and their families on this 21-day fast.
Most Read
●
Dealing With the Roots
●
Unlock Heavens Doors & Slam Shut Hells Doors
●
Kindness Matters
●
The 7 Spirits of God: Spirit of Wisdom
●
Red Alert
●
Change your Destiny
●
A Dead Man Praying for the Living
➤