News
Bethlehem
Monday, 24th of December 2018
224
36
5441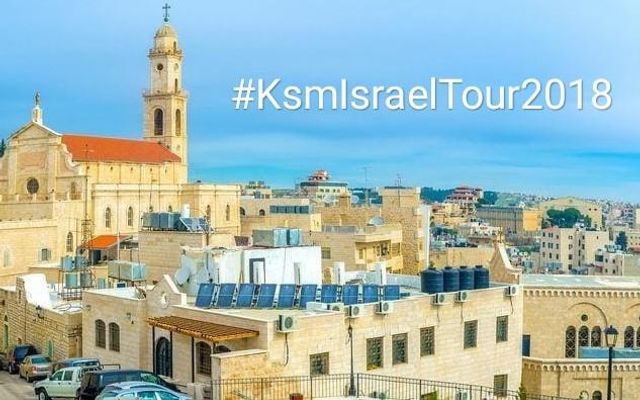 Bethlehem is a Palestinian city located in the central West Bank, about 10 kilometers south of Jerusalem. 

Bethlehem in Arabic means "House of Meat" 
Bethlehem in Hebrew means "House of Bread" 
A magnificent church was built right at the place where Jesus was born in Bethlehem in Judah.  This church was named as the Church of the Nativity and is the oldest of all churches in Israel. 
All other churches were destroyed during wars between Israel and its enemies.

The inside of the Church
Prophecy of the Birth of Jesus
"But you, Bethlehem Ephrathah, Though you are little among the thousands of Judah, Yet out of you shall come forth to Me The One to be Ruler in Israel, Whose goings forth are from of old, From everlasting." (Micah 5:2)
The exact place where Lord Jesus was born
Birthplace of Lord Jesus
Joseph also went up from Galilee, out of the city of Nazareth, into Judea, to the city of David, which is called Bethlehem, because he was of the house and lineage of David, to be registered with Mary, his betrothed wife, who was with child. So it was, that while they were there, the days were completed for her to be delivered. And she brought forth her firstborn Son, and wrapped Him in swaddling cloths, and laid Him in a manger, because there was no room for them in the inn. (Luke 2:4-7)
As there was no place in the inn, Joseph was given a place in a manger where the cattle dwelt.  It was this manger that Jesus was born.

Bethelem is also the Burial place of Jacob's wife -Rachel 
So Rachel died and was buried on the way to Ephrath (that is, Bethlehem). (Genesis 35:19)
Rachel's Tomb is inside a domed building built in 1841 by Sir Moses Montefiore.
Prophet Samuel anointed David as king of Israel in Bethlehem (1 Samuel 16:1, 4, 13) 
David's ancestors Ruth and Boaz were married in Bethlehem. (Ruth 4:13-17)
The amazing group that made it to Bethlehem
➤