News
The Noah App: Now in Tamil
Saturday, 7th of January 2023
112
25
1831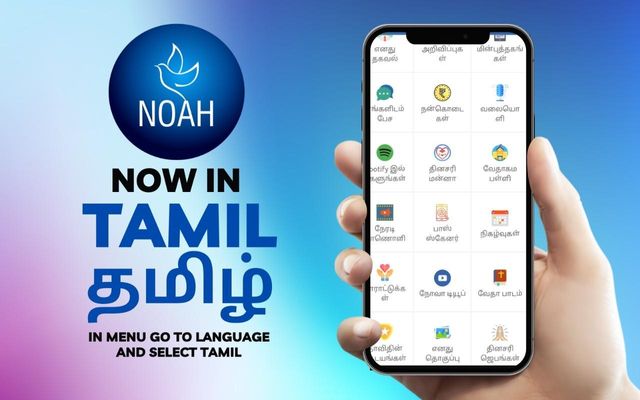 The Noah App has been a huge blessing to the Christian community, and On New Year's Day (1.1.2023), Karuna Sadan Ministries announced the launch of their new Tamil app. The launch of the Tamil app by Karuna Sadan was met with great enthusiasm by the Tamil community at KSM. Many have already downloaded the app and are actively engaging. 
Its features, such as Daily Prayers & Confessions, Praises, Ebooks, NoahTube, Send Prayer Requests, Dream Dictionary, Bible Commentary and NoahGram, makes it the first of its kind comprehensive platform to minister to thousands at once. 
We believe having the Noah app in Tamil will transform their lives and elevate the walk of a Tamil-speaking believer in the following ways.
1. Senior family members of Tamil-speaking believers, especially grandparents who are more comfortable with Tamil, will now have access to all the features of Noah without struggling to understand words and their meanings in English. Sections such as Daily Manna and Dream Dictionary will greatly bless such a group of people who value wisdom and revelation from the Word of God.
2. Parents who are more comfortable conversing and reading in Tamil will be able to teach their kids Daily Prayers and Confessions in their mother tongue, which will not only strengthen the faith of their kids but also create a beautiful memory that the kids will cherish for life.
Nithin from Delhi recollects: "One of the earliest and most beautiful memories that I have with my mother as a kid is her teaching me Psalms 23 and the Lord's prayer in my mother south Indian mother tongue.
She used to make me recite and repeat them at home and during vacations. Because of those efforts, I now know Psalms 23 and the Lord's Prayer in my mother tongue." 
3. People living in the rural and outskirts regions of Tamil Nadu, where Tamil is more prevalent, will now have access to a massive resource and tool which will help them in their walk with the Lord. Existing Tamil-speaking members will be able to connect and converse with their community at a greater level as they will have a common platform and language to talk about God
Here's how you can help:
a) Share the Daily Manna (in Tamil) with their families, friends and relatives, especially those who are yet to have a personal relationship with God. You can create broadcast groups and share them at once with the contacts of your choice. Doing so daily and without fail will help many souls yet to meet Christ. 
b) Please pray every day that the Noah App would impact and influence many into the Kingdom of our Lord Jesus Christ.
c) Lastly, consider sowing a financial seed to help continue the work.
➤