News
Breaking News: Karuna Sadan Hits 200k Subscribers
Wednesday, 9th of August 2023
177
44
1717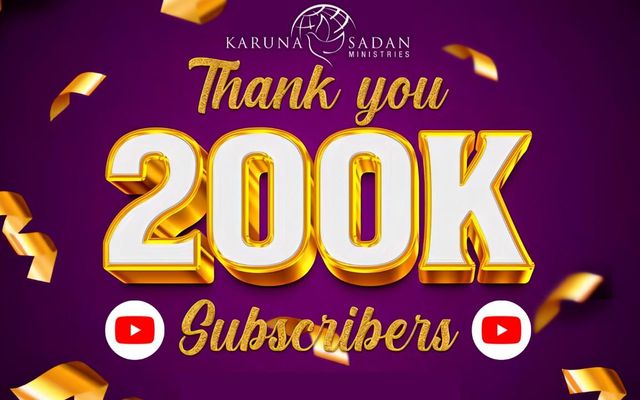 In the digital age, the ability to spread the Word of God has become more accessible and instantaneous than ever before. The growth of Karuna Sadan's YouTube channel, which reached 200,000 subscribers since its inception on June 14th, 2013, is a testament to the eagerness and willingness of individuals to learn, grow, and share in their faith.


Spreading the Good News
The scriptures call us to spread the good news to all nations. In Mark 16:15 (NIV), Jesus said, "Go into all the world and preach the gospel to all creation." By sharing teachings, videos, and live broadcasts from Pastor Michael, every subscriber, viewer, and sharer becomes a part of this divine calling.
How You Can Be a Blessing
1. Subscribe to the Karuna Sadan YouTube Channel: If you haven't yet, hit the Subscribe button 🎥 and become a part of our online congregation 🙌. Join us now and be part of this amazing community! 
2. Share the Teachings of Pastor Michael: Every day, you can share one video from Pastor Michael's teachings on your WhatsApp groups. Proverbs 11:25 (NIV) tells us, "A generous person will prosper; whoever refreshes others will be refreshed."
3. Tune In 📺 and Share the LIVE Broadcasts 🎥: Engage with the LIVE broadcasts happening every Tuesday, Thursday, Saturday, and Sunday 🗓️. Share these with your contacts 📲. As Psalm 96:3 (NIV) says, 'Declare his glory among the nations, his marvellous deeds among all peoples.' 
The Eternal Benefits
When we share the Word of God, we do more than merely spread information; we sow seeds of faith, love, and hope.
Galatians 6:9 (NIV) encourages us, "Let us not become weary in doing good, for at the proper time we will reap a harvest if we do not give up."
The eternal benefits of sharing God's wisdom and love are indeed priceless. By allowing God to work through us, we take part in a heavenly mission. We align ourselves with God's purpose and embrace the privilege of being His instruments.
Matthew 25:23 (NIV) paints a vivid picture of the reward for those who are faithful in small things: "His master replied, 'Well done, good and faithful servant! You have been faithful with a few things; I will put you in charge of many things. Come and share your master's happiness!'"
Besides the Karuna Sadan YouTube Channel, we also have the following YouTube channels:




Please visit these channels to enrich your spiritual journey, and feel free to introduce them to your loved ones. Together, let's grow our faith across languages and borders.
Let the blessing of the Lord be upon you and your loved ones as you step into the joy of serving God in this unique and powerful way.
-Pastor Michael Fernandes
➤