Bible Commentary
Chapter 4
Book / 49 / 1252 chapter - 4
909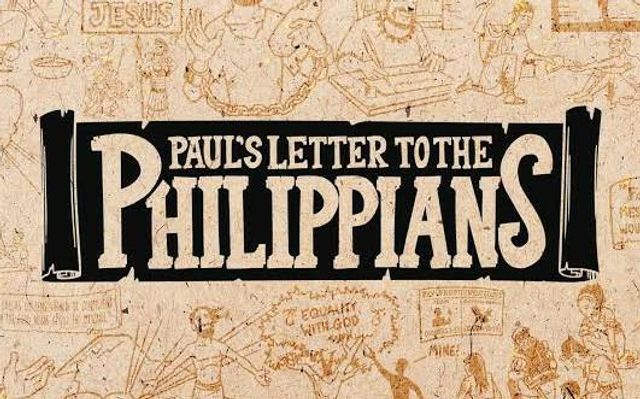 Therefore, my beloved and longed-for brethren, my joy and crown, so stand fast in the Lord, beloved. (Philippians 4:1)
Four titles for the people
my beloved 
longed-for brethren
my joy 
my crown
Be anxious for nothing, but in everything by prayer and supplication, with thanksgiving, let your requests be made known to God; and the peace of God, which surpasses all understanding, will guard your hearts and minds through Christ Jesus. (Philippians 4:6-7)
The New Living Translation expresses it beautifully
Don't worry about anything; instead, pray about everything. Tell God what you need, and thank him for all he has done. Then you will experience God's peace, which exceeds anything we can understand. His peace will guard your hearts and minds as you live in Christ Jesus. (Philippians 4:6-7)
When we pray peace becomes more than just an academic topic, His peace becomes a reality and permeates every fiber of our being. A precious gift to be received and for which we ought to give thanks. 
This peace also acts as a guard over our hearts and minds. What used to ruffle us earlier will not do so anymore. This guard is vigilant and prevents the natural thoughts and fears from gaining a foothold in our lives. 
Finally, brethren, whatever things are true, whatever things are noble, whatever things are just, whatever things are pure, whatever things are lovely, whatever things are of good report, if there is any virtue and if there is anything praiseworthy—meditate on these things. (Philippians 4:8)
Meditation is more than a passing thought. It is like a teabag in a cup of hot water. The bag enters the water- the water is still clear. Slowly as the bag steeps – it begins to change the color of the water.
What you speak about when your guard is down is a good gauge of what is in your heart (Matthew 12:34). Your mind needs exercise just as your physical body does. To exercise your mind, you must contemplate (Meditate on) things that are noble and truths that stretch your mind.
There are some people who seem to be drawn to concentrate on the negative, choosing to be pessimistic about everything. Our thoughts should guide our actions. 
What you fill your mind with is a matter of our own choice. Choose to concentrate on the magnificent truths of God, and they will create in you a noble character that brings glory and honor to God.
The things which you learned and received and heard and saw in me, these do, and the God of peace will be with you. (Philippians 4:9)
After Apostle Paul tells the Philippians how to think, he tells them how to live. But he does that as one who perfectly understands how difficult the task is.
He is not like the parent who says, "Do as I say"
Instead, he says, "Do as I do"
What are the things that Apostle Paul said, we must do:
Things learned 
Things received
Things heard
Things that were seen in Him
I can do all things through Christ who strengthens me. (Philippians 4:13)
Philippians 4:13 does not say that you can do anything you want to do.
Indeed I have all and abound. I am full, having received from Epaphroditus the things sent from you, a sweet-smelling aroma, an acceptable sacrifice, well-pleasing to God. (Philippians 4:18)
a sweet-smelling aroma
an acceptable sacrifice
well-pleasing to God.
Three Aromas that God loves the most 
1.The Aroma of Our Giving 
The things sent from you. The Philippians gave generously towards Paul's needs and that was a sweet-smelling aroma to God.
2.The Aroma of Our Witness
2 Corinthians 2:14,16
But, unfortunately, not everyone likes the scent of this truth, even when it's spoken "with gentleness and respect," as it always ought to be (1 Peter 3:15). While our witness always spreads the fragrance of Christ, it's not always received the same by its hearers. To those who are being saved, it is the lovely perfume of life everlasting; but to those who are perishing, it's the sour stench of death eternal.
And walk in love, as Christ also has loved us and given Himself for us, an offering and a sacrifice to God for a sweet-smelling aroma. (Ephesians 5:2)
And walk in love, as Christ….that's the standard of love that has been set for us. We dare not lower our standards through compromise. 
While we may not be called to die for others, we are certainly called to demonstrate Christ's suffering and sacrifice through our own emotional and physical sacrifices. 
It is when we are expressing Christ in this way that we too become a fragrant offering to God.
And my God shall supply all your need according to His riches in glory by Christ Jesus.  Now to our God and Father be glory forever and ever. Amen. (Philippians 4:19-20)
One of our biggest worries tends to be about our ability to provide for our needs. The Lord has promised saying, "And my God shall supply all your need according to His riches in glory by Christ Jesus.
The Lord has promised to meet our needs and not our 'greed'. Many try to make God a genie in a bottle.
Previous
➤