Bible Commentary
Chapter 1
Book / 63 / 509 chapter - 1
1080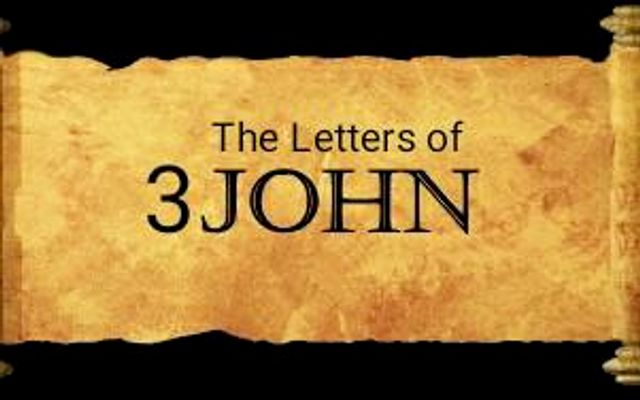 Beloved, I pray that you may prosper in all things and be in health, just as your soul prospers. (3 John 2)
John is praying that Gaius' physical health would match his spiritual health. God is concerned for both our physical health (he gave our bodies an immune system) and our souls (emotional and spiritual well-being).
if you would be so kind, send them on their way with a generous gift, in a manner that would honor God.(3 John 6)
Your gift must honor God.
I have already written to you once about this, but Diotrephes,who loves to be in charge and recognized as first among you, does not acknowledge our authority. (3 John 9)
This refers to a lost letter, possibly destroyed by Diotrephes. So the letter we now have is actually 4 John.
Beloved, do not imitate what is evil, but what is good. He who does good is of God, but he who does evil has not seen God. (3 John 11)
Someone said, "Imitation is the Sincerest Form of Flattery"
We all imitate the people around us to a certain extent. When we are around people, we pick up things they do. It could be the words they speak, the clothes they wear, their mannerisms, to the bigger things like the way they handle their finances or lead their family.
Imitation is a bad thing when we tend to imitate what is outside of the boundaries of the word of God.
The children of Israel imitated the detestable practices of the pagan nations the Lord had driven from the land ahead of the Israelites. (1 Kings 14:24) This is the reason they had to go through many ordeals. "They followed the example of the nations around them, disobeying the Lord's command not to imitate them." (2 Kings 17:!5)
However, scripture also tells us that Imitation is a good thing when we imitate what is good. 
Paul the Apostle wrote to the Corinthian Church, "Imitate me, just as I also imitate Christ." (1 Corinthians 11:1)
Is there an area of your life that you desperately want change? It could be that you want to improve your parenting skills, learn how to strengthen your spiritual life, learn how to work out? Do you need to get better at serving the Lord or simply playing an instrument? Whatever the case might be, look around for people who follow God and are better than you in that specific area in which you seek change.
that you do not become sluggish, but imitate those who through faith and patience inherit the promises. (Hebrews 6:12)
We are to imitate God
Imitate God, therefore, in everything you do, because you are his dear children. (Ephesians 5:1)
Prayer:
Heavenly Father, I thank You for Your plans to prosper me, for Your plans to give me hope and a future. Please help me identify and imitate good examples so that I can experience the best that you have for me. In Jesus' name, Amen.
➤