Daily Manna
21 Days Fast: Day #18
Wednesday, 29th of December 2021
231
125
2213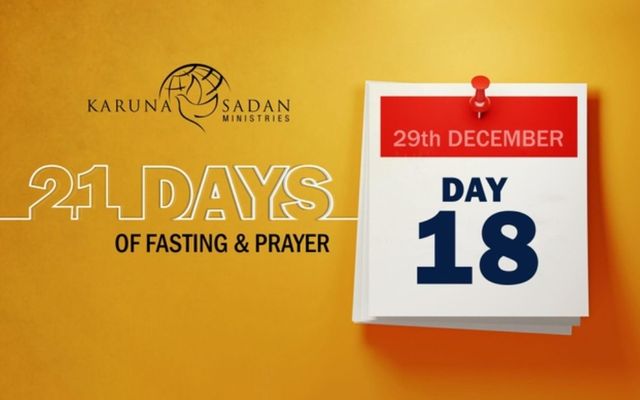 POWERFUL PURPOSE FOR YOUR DELIVERANCE
God is a God of purpose who does nothing without a purpose. He even created the earth for a purpose. Therefore, there is also a purpose for your deliverance.
He has delivered us from the power of darkness and conveyed us into the kingdom of the Son of His love (Colossians 1:13)
Many Christians fail to receive or keep their deliverance is because they don't understand the purpose of their deliverance. So you see how important it is for you to understand the purpose of your deliverance.
Now when Jesus had come into Peter's house, He saw his wife's mother lying sick with a fever. So He touched her hand, and the fever left her. And she arose and served them. (Matthew 8:14-15)
She was sick, but the moment she was healed, she arose and served them. 'Them' means not only Jesus but also the people that were with Him. The purpose of your deliverance is to serve Him.
Scriptures for Meditation
Psalm 34 (Read it aloud)
Galatians 5:1
Psalm 107:6-7
2 Peter 2:9
Important:
Anoint yourself, your house, your possessions, and your family members with oil. If you have pets in your house, anoint them too with oil.
Begin with praise and worship. Spend some time (at least 10mins) worshipping the Lord. (Sing songs of worship or play some soft worship music to help you worship)
Prayer
Repeat every prayer missile till it comes from your heart. Only then move on to the next prayer missile.

1. I receive the power to pursue my pursuers and to attack my attackers in the name of Jesus.

2. Any satanic priest ministering against my family members and me at evil altars, receive the judgment of fire and burn to ashes in the name of Jesus.

3. O Lord, use me to rewrite my family history in Jesus' name.

4. All my blessings stolen by ancestral spirits, be restored to me by fire in the name of Jesus.

5. Any object representing me or my family members in the kingdom of darkness, catch fire and burn to ashes in the name of Jesus.

6. Fire of the Holy Spirit purge my foundation in the name of Jesus. Blood of Jesus, wash my foundations in the name of Jesus.

7. You power of the evil, loose your hold over my family and me in the name of Jesus.

8. Any evil food or drink that has entered my body or the bodies of my family members be purged out by the Fire of the Holy Spirit in Jesus' name. (Keep saying this for some time)

9. Every scheme of the devil hindering the move of God in my life, in my family, and in the nation of India, be cut off in the name of Jesus.

10. Spend some time praying for the people who are doing the 21 Day Prayer Program that they would be delivered from every evil bondage to serve the Lord.
Most Read
●
21 Days Fast: Day #21
●
Guard Your Heart Diligently
●
The Gift Of Grace
●
Why Great Men and Women Fall -2
●
Unlock Heavens Doors & Slam Shut Hells Doors
●
Slaying the Giant of Procrastination
●
The Sacrifice of Thanksgiving
➤