Daily Manna
Day 14: 21 Days Fasting & Prayer
Sunday, 25th of December 2022
222
138
1861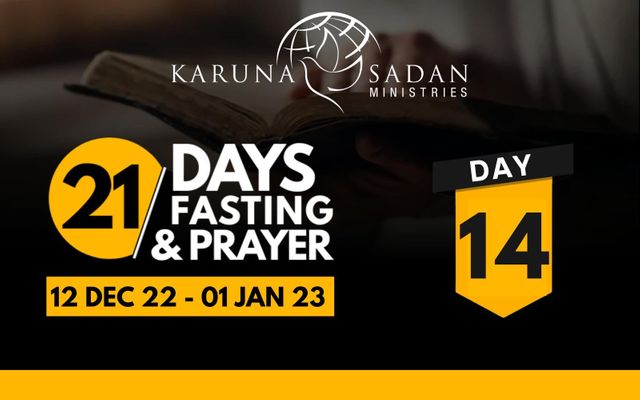 I Shall Be Favoured
"And I will give this people favour in the sight of the Egyptians; and it shall be when you go, that you shall not go empty-handed." (Exodus 3:21)
Favour is an act of kindness shown by God to man or man to man. We all want good things and kindness from others. Men are channels of blessing, while God is the source of blessings and favour. When God favours a man, people will begin to favour him. From our scripture for the day, the scriptures reveal that it is God who gives people favour: "I will give this people favour..." Today, I want you to cry out for the favour of God. God can cause anybody to favour you; it is not limited to friends or people who know you. God can use a stranger and even an enemy to favour you. I decree over your life that you shall be favoured in Jesus' name.
Many people in life are empty; they have been robbed or cheated either physically or spiritually. The Israelites would have left Egypt empty-handed, but by the favour of God, they left with wealth, glory, and possessions. The favour of God can divinely compensate you for all your wasted years.
What Can the Favour of God do in a man's Life?
1. The favour of God makes people take notice of you.
It creates an awareness and causes men to have a positive impression of you.
So she fell on her face, bowed down to the ground, and said to him, "Why have I found favour in your eyes that you should take notice of me since I am a foreigner?" (Ruth 2:10)
2. The favour of God Guarantees Promotion
For You are the glory of their strength,
And in Your favour, our horn is exalted. (Psalm 89:17)
3. Favor secures for you the help of God
Whenever we need help, we can cry out for the favour of God. The increase in divine favour will lead to more help.
Remember me, O Lord, with the favour You have toward Your people.
Oh, visit me with Your salvation, (Psalm 106:4)
4. The favour of God is needed for marital settlement
It is by the favour of God that you'll find the right partner, not by beauty, wealth, or physical appearance.
He who finds a wife finds a good thing,
And obtains favour from the Lord. (Proverbs 18:22)
5. Through the favour of God, you can request anything from God
It is by favour that God grants our requests in prayer. If favour is lacking, there would be no answer to prayers. Favour is very important in the place of prayer.
Then he said to Him, "If now I have found favour in Your sight, then show me a sign that it is You who talk with me. (Judges 6:17)
6. The favour of God is what makes us enjoy His mercy
When you understand how grace, mercy, favour, and God's love operate, you'll enjoy the best of God. Without favour, mercy will not be available, and the absence of mercy will lead to judgment. When there is mercy, it triumphs over judgment.
"The sons of foreigners shall build up your walls,
And their kings shall minister to you;
For in My wrath I struck you,
But in My favor I have had mercy on you. (Isaiah 60:10)
For judgment is without mercy to the one who has shown no mercy. Mercy triumphs over judgment. (James 2:13)
Biblical Examples of those that Enjoyed Favour
According to Luke 2:52, we see clearly that favour can increase as well as wisdom. If Jesus needed favour in fulfilling His assignment on earth, who are you not to need it? Favour is essential to life; it is what makes life easy for a man.
Mary, the Mother of Jesus
It was by the favour of God that Mary was selected. There were many other virgins in the city, but the favour of God picked her. Those other virgins were also favoured, but the Scriptures said Mary was "highly favoured." Favour is in levels, and there is what is called "high favour," may you begin to enjoy high favour in Jesus' name. (Luke 1:28, 30)
What to do to enjoy favour?
Obedience to the word will determine how much of God's favour you'll enjoy.
My son, do not forget my law,
But let your heart keep my commands;
2 For length of days and long life
And peace they will add to you.
3 Let not mercy and truth forsake you;
Bind them around your neck,
Write them on the tablet of your heart,
4 And so find favour and high esteem
In the sight of God and man. (Proverbs 3:1-4)
Another word for grace is "favour." Humility causes us to enjoy the favour of God. A proud man thinks that he is capable and independent; such a person is like Nebuchadnezzar, who was ignorant that his success, victory, fame, and wealth were given to him by God. Pride can rob you of God's favour.
When you lie down, you will not be afraid;
Yes, you will lie down, and your sleep will be sweet. (Proverbs 3:24).
Your kindness should not be limited to the people you like or those who are good to you. You should be like your heavenly Father and unconditionally love others.
A good man obtains favour from the Lord,
But a man of wicked intentions He will condemn. (Proverb 12:2)
43 "You have heard that it was said, 'You shall love your neighbour and hate your enemy.' 44 But I say to you, love your enemies, bless those who curse you, do good to those who hate you, and pray for those who spitefully use you and persecute you, 45 that you may be sons of your Father in heaven; for He makes His sun rise on the evil and on the good, and sends rain on the just and on the unjust. 46 For if you love those who love you, what reward have you? Do not even the tax collectors do the same? 47 And if you greet your brethren only, what do you do more than others? Do not even the tax collectors do so? 48 Therefore, you shall be perfect, just as your Father in heaven is perfect. (Matthew 5:43-48)
Favour is a form of divine blessing; you can ask for favour concerning any situation. God is willing to give you favour before men.
For You, O Lord will bless the righteous;
With favour, You will surround him as with a shield. (Psalm 5:12)
Further Study:
Genesis 6:8, 1 Samuel 16:22, Acts 7:10
Prayer
Repeat every prayer missile till it comes from your heart. Only then move on to the next prayer missile. (Repeat it, personalize it, do this with each prayer point for a minimum 1 minute)

1. Father, cause your favour to increase in my life in Jesus' name.

2. Lord, cause me to be accepted in places where they once rejected me in Jesus' name.

3. I shall be favoured this season and this month in Jesus' name.

4. Father, cause men to begin to favour me in Jesus' name.

5. Father, bless me financially so that I can bless others too.

6. I uproot every anti-favour attitude in my life in Jesus' name.

7. Oh Lord, let your favour rest on my business in Jesus' name.

8. Father, cause your favour from the North, South, East, and West to locate me in Jesus' name.

9. I decree that every closed door of blessing, promotion, wealth, and opportunity be opened by fire in Jesus' name.

10. I break any evil force that is holding me back from rising in Jesus' name.

11. Father, by your favour, I scale through every anti-blessing protocol and barrier.

12. Lord, use every person and me joining this 21-day fast for your glory in Jesus' name.
Most Read
●
Guard Your Heart Diligently
●
Christ Has Conquered the Grave
●
Breaking the Power of Iniquity - I
●
The Race of Giants
●
The Very Character of God
●
Urgency in Prayer
●
Faith in Trial
➤