Daily Manna
Salt of the Earth or Pillar of Salt
Thursday, 9th of March 2023
220
145
1176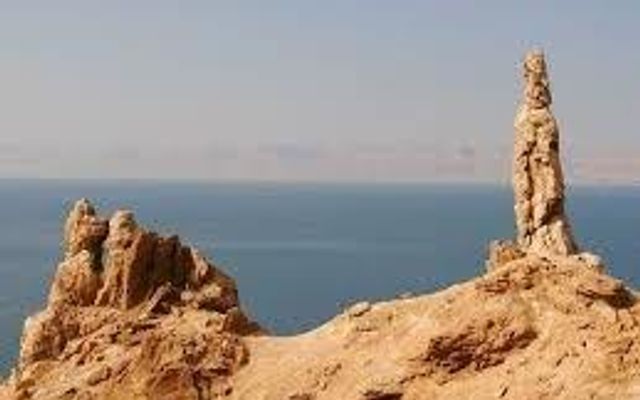 "Remember Lot's wife." This is the beacon that the Lord uses for the body of Christ in this generation. We are to remember what happened to Lot's wife; she was not ready to leave. Her heart was still clinging to the things of this life and fixed on the city of destruction, and she was not prepared to leave. As the Lord said, "No one who puts a hand to the plough and looks back is fit for service in the kingdom of God" (Luke 9:62).
When our hearts are divided and entangled in the things of the city of destruction, we must remember the warning about Lot's wife. Lot's wife was a Christian, but only almost. We must be ready to leave behind the things of this world and follow the Lord with a wholehearted commitment. As the Apostle Paul wrote, "I press on toward the goal to win the prize for which God has called me heavenward in Christ Jesus" (Philippians 3:14).
In our own lives, we, too can become entangled in the things of this world. We can allow our hearts to become divided, trying to serve both God and the world. But as Jesus warned, we cannot serve two masters (Matthew 6:24). We must choose to follow Him wholeheartedly, without looking back.
A woman named Maria (name changed) who had grown up in a poor family always dreamed of becoming a successful businesswoman and providing a better life for her family. Despite many obstacles and setbacks, Maria still served the Lord in the Karuna Sadan services. She had started a small business selling homemade crafts, pickles and dry fish.
As Maria's business grew, she found less time to attend the services or serve the Lord. With her newfound success came the temptations and pleasures of this world. Maria began to focus more on her own comfort and pleasure rather than doing the will of God.
One day, Maria heard a sermon on one of the television broadcasts of Karuna Sadan, which spoke about the story of Lot's wife and the danger of being attached to the things of this world. She felt convicted by the Holy Spirit and realized that she had become like Lot's wife, looking back at the things of this world and becoming entangled in them.
Today, Maria serves the Lord in a particular state. She still has her business going, but she uses the proceeds of her business to support education and job training for many young people in her village.
In her generation, Lot's wife was regarded as one of God's followers. She lived with a righteous man, her husband, but she maintained a double standard. Her heart was never separated from the pleasures of Sodom, which had a strong hold on her heart. Even though she knew the city was going to be destroyed with fire and brimstone, she had to take one last look at the things she was leaving behind. As a result, she became a pillar of salt rather than being the salt of the earth.
Prayer
Father, I pray that every ungodly tie between my life, my family, and polluted objects and items be broken in the name of Jesus. I apply the blood of Jesus upon every person and object that is connected with me, and I ask for your protection and deliverance from all evil. Thank you for Your love and mercy towards me. In Jesus' name, I pray. Amen.
Most Read
●
Are You Battling Loneliness?
●
Searching for Love
●
Stopping the Serpents
●
Strategies to Run the Race
●
The Firstborn From the Dead
●
How to Experience Joy Each Day of This New Year
●
You Must Influence Them
➤