Bible Commentary
Chapter 1
Book / 48 / 1480 chapter - 1
873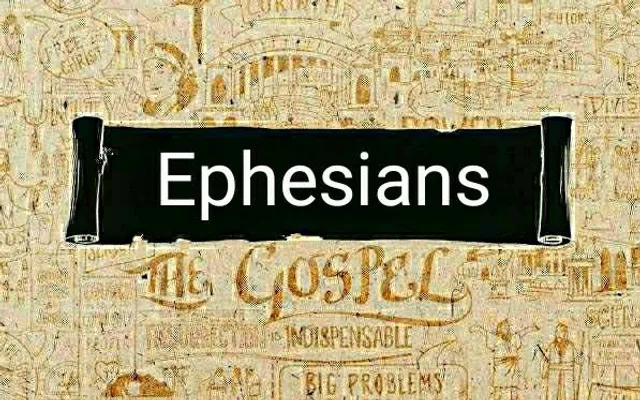 Paul, an apostle of Jesus Christ by the will of God, to the saints who are in Ephesus, and faithful in Christ Jesus (Ephesians 1:1)
Notice, Paul mentioned that he was an apostle "by the will of God.". Ephesus was the chief city of the Roman province of Asia, in what is now known as Turkey. It was the site of the temple of Diana, also known as Artemis
Grace to you and peace from God our Father and the Lord Jesus Christ. (Ephesians 1:2)
Apostle Peter revealed that grace and peace can be multiplied through the knowledge of God (2 Peter 1:2).
Blessed be the God and Father of our Lord Jesus Christ, who has blessed us with every spiritual blessing in the heavenly places in Christ  (Ephesians 1:3)
"In Christ" we have been blessed with all spiritual blessings. These things are now spiritual realities. As we believe and act in faith, these spiritual blessings become physical realities.
just as He chose us in Him before the foundation of the world, that we should be holy and without blame before Him in love, (Ephesians 1:4)
We were chosen in Christ before the world began. We are holy and without blame because God sees us through Christ.
If you and I happened to look through a red glass, everything would appear red. Likewise, God looks at us through Christ, and everything in our lives becomes covered by the blood of Jesus. We are holy and without blame before Him because of His love expressed through His Son.
having predestined us to adoption as sons by Jesus Christ to Himself, according to the good pleasure of His will, (Ephesians 1:5)
Through adoption, old ties were cut off, and the new father became the full owner of the child with all legal rights. In Rome, a slave could have full rights as that of a Roman citizen through adoption. Through adoption, Christians now have had all ties cut off from their old master and have now become the property of their heavenly Father as heirs and joint-heirs with Jesus Christ.
to the praise of the glory of His grace, by which He made us accepted in the Beloved. (Ephesians 1:6)
No matter where rejection comes from, it can cause great damage in how we see ourselves and our value to others.
We often carry this same attitude into our relationship with God. If God sees all of my faults and is more aware of all of my weaknesses than anyone else, why should I expect anything good from Him?
The good news is that "He made us accepted" The Greek meaning of the word "accepted" means "to make graceful, charming, lovely, agreeable, to surround with favor and to honor with blessings." 
In Him, we have redemption through His blood, the forgiveness of sins, according to the riches of His grace (Ephesians 1:7)
The price paid for our redemption was the very life of Jesus; the blood of Jesus. (Colossians 1:14). it is only through the riches of God's grace that we have received the forgiveness for our sins. There is nothing we can do to obtain forgiveness, except humble ourselves and receive forgiveness as a gift through faith in Christ.
having made known to us the mystery of His will, according to His good pleasure which He purposed in Himself (Ephesians 1:9)
"mystery" here, means "something that could not be known by men except by divine revelation, but that, though once hidden, has now been revealed in Christ.
that in the dispensation of the fullness of the times He might gather together in one all things in Christ, both which are in heaven and which are on earth—in Him. (Ephesians 1:10)
A dispensation is simply a period of time during which God deals with mankind in a certain way. The two dominant dispensations in Scripture are the dispensation of Law and the dispensation of grace, or as some call it, the "church age," in which we now live.
In Him also we have obtained an inheritance, being predestined according to the purpose of Him who works all things according to the counsel of His will, (Ephesians 1:11)
This inheritance is one of the blessings Paul mentioned earlier in Ephesians 1:3. This inheritance is ours now. It includes everything that belongs to Christ because we are joint-heirs with Him (Romans 8:17).
In Him you also trusted, after you heard the word of truth, the gospel of your salvation; in whom also, having believed, you were sealed with the Holy Spirit of promise, (Ephesians 1:13)
The word "gospel" literally means "the good news". All we have to do is believe and receive it.
At salvation, we each receive a brand-new spirit. (2 Corinthians 517). However, before the Spirit's sealing can take place, two things must take place.
1.The gospel must be heard
2.They must believe and trust the message of the gospel
who is the guarantee of our inheritance until the redemption of the purchased possession, to the praise of His glory. (Ephesians 1:14)
Apostle Paul was saying that until we see these bodies glorified, the indwelling presence of the Holy Spirit is our guarantee that the rest of our salvation is secure and coming.
Therefore I also, after I heard of your faith in the Lord Jesus and your love for all the saints (Ephesians 1:15)
Concerning the Ephesians, Apostle Paul heard about two things:
1.Their Faith
2.Love for all the saints
do not cease to give thanks for you, making mention of you in my prayers: (Ephesians 1:16)
Thanksgiving to God is prayer, and it is a very important part of prayer. 
Enter into His gates with thanksgiving,
And into His courts with praise.
Be thankful to Him, and bless His name. (Psalm 100:4)
Be anxious for nothing, but in everything by prayer and supplication, with thanksgiving, let your requests be made known to God (Philippians 4:6)
According to Jesus' teaching on prayer in Matthew 6:9-13, we are to start and end our prayers with thanksgiving and praise.
that the God of our Lord Jesus Christ, the Father of glory, may give to you the spirit of wisdom and revelation in the knowledge of Him (Ephesians 1:17)
Every day, each one of us has to make important decisions. We need guidance from the Lord to make these key decisions. If this is so, then Apostle Paul's prayer to the Ephesian church in Ephesians 1:17 is an important scripture for you to apply to your own life.
The word "wisdom" in this verse is from the Greek word sophias used to describe insight or wisdom not naturally attained.
The word "revelation" is from the word apokalupsis. It refers to something that has been veiled or hidden for a long time and then suddenly, almost instantaneously, becomes clear and visible to the mind or eye.
the eyes of your understanding being enlightened; that you may know what is the hope of His calling, what are the riches of the glory of His inheritance in the saints (Ephesians 1:18)
The phrase "eyes of your understanding" is a metaphor referring to the ability to perceive with the mind. Just as we can't see with our physical eyes if we have them closed, so none of us can see with our understanding if our minds are closed.
and what is the exceeding greatness of His power toward us who believe, according to the working of His mighty power (Ephesians 1:19)
Paul wanted us to know not only God's power but also the greatness of God's power
far above all principality and power and might and dominion, and every name that is named, not only in this age but also in that which is to come. (Ephesians 1:21)
This is one of the greatest passages in the New Testament on the authority of the believer. In this passage, we see that we have come to share in Christ's throne, to partake in the authority that the throne represents, and to exercise divine power and dominion.
And He put all things under His feet, and gave Him to be head over all things to the church (Ephesians 1:22)
When anything is placed under the feet of a person, then every single part of that person's body is positioned above it. This means that the resurrection power is not just a reality for Christ, our Head, but for every member of Christ's body.
which is His body, the fullness of Him who fills all in all. (Ephesians 1:23)
Jesus Christ has chosen to be incomplete without His church, "his body, filled with himself" (The Living Bible).
Next
➤