Daily Manna
Putting God First #1
Monday, 19th of September 2022
204
118
1157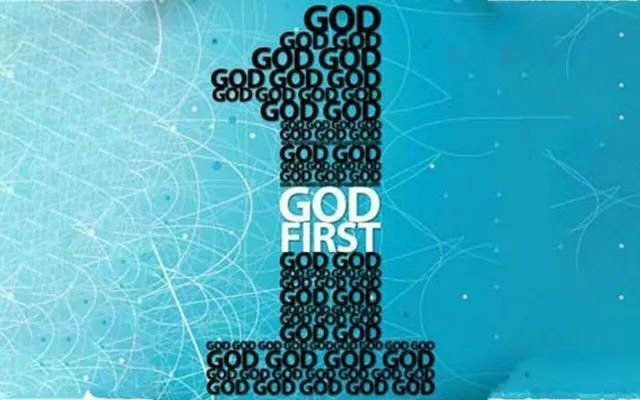 We have commonly heard the saying, "God first, family second and work third". But what does it mean to put God first?

First, we need to realize that we don't put or make God first. He is First.
"I am the Alpha and the Omega, the Beginning and the End," says the Lord, "who is and who was and who is to come, the Almighty." (Revelation 1:8)

So then, what does putting God first really mean?
It means as a Christian; we need to give Him the first place in every area of our lives. There are many areas in which we need to put God first.

1. Putting God First in Your Emotions
David had won a great victory in battle. But the irony was that he had won the battle against his own son Absalom who had tried to usurp his throne. Absalom was killed in the battle.

As a father, David was going through great emotional pain, but by holding on to his misplaced emotions, he did not appreciate the victory that his people had brought at such a great price. His feelings told him to stay locked up.

David's commander Joab reminded him that his family members would not have been alive had his people not fought valiantly. Joab wisely asked David to get over his misplaced emotions and appreciate the people. Instead, David allowed his emotions to be be bigger than what was right.

Then the king (David) arose and sat at the gate. And they told all the people, saying, "There is the king, sitting in the gate." So all the people came before the king. (2 Samuel 19:8)

When we put God first by heeding wise counsel, all other things fall into their proper place.

Every day, most of us are faced with challenges or tough decisions. The issue then is, will we respond to them according to God's Word, or will we react emotionally? Our basic human instinct is to react emotionally. Emotions will only take you on a roller coaster ride. However, by applying God's Word to the situation, we can better manage our emotions.

Sometimes, it's difficult to apply scripture to a specific situation. In such cases, ask the question, "What would Jesus do?" (WWJD) Always choose the higher road. Doing this will put God first in the way you handle your emotions.

I must confess I have not achieved all-around success in this area of my Christian walk, but I am on my way. Please do remember me in your prayers. Someone so wisely said, "Put God first, and you will never be last."


Prayer
Father, empower me to act on Your Word and not react emotionally. Help me live beyond my feelings. In Jesus' name. Amen
Most Read
●
Divine Order - 1
●
Getting Grace By Faith
●
The Lost Secret
●
Red Alert
●
Through Him No Limits
●
Don't Let Your Struggle Become Your Identity -1
●
More Than a Conqueror
➤