Daily Manna
Stop Wandering
Tuesday, 16th of May 2023
186
125
917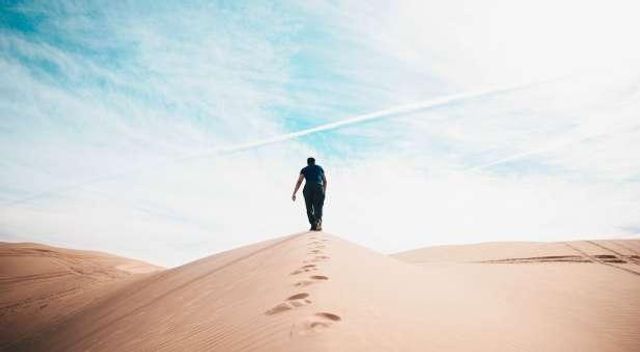 I have gone astray like a lost sheep; seek Your servant, For I do not forget Your commandments. (Psalm 119:176)
People who get lost in the forest usually wander in circles as they try to follow their own sense of direction, often ending up right back where they started. They work so hard but end up getting nowhere.
A man who wanders from the way of understanding will rest in the assembly of the dead. (Proverbs 21:16) This reminds me of when the people of Israel wandered in the desert on the way to their promised land.
This is a great lesson for us as believers. It's so easy to get off track, trying to follow our own logic and desires. We run in circles, worrying about having enough, about what others think, and about protecting our own. Following our own sense of direction, we get nowhere.
God understands who we are and is patiently waiting for us to look to Him. You are born of God to be led of God. (Read 1 John 5:4). You are not expected to live an independent life but to be totally dependent on the Greater One that lives within you – the Holy Spirit.
All of us, like sheep, have gone astray; each of us has turned to his own way, But the LORD has caused the iniquity of us all to fall on Him. (Isaiah 53:6)
Instead of making choices based on fear, relying only on what we know, we can choose faith by relying on what God says He has given us in His Word. Lord Jesus paid the price for Your days of confusion and wandering are over.
Prayer
1. We are fasting (Tue/Thu/Sat) every week of 2023. This fasting has five main goals.
2. Each prayer point must be prayed for at least 2 minutes and more.
3. Also, use these prayer points on the days you are not fasting
Personal Spiritual Growth
I am born of God to live above and beyond natural circumstances. God's Word is my guide in life. I believe, confess, act, expect and manifest the Word. In Jesus' name. Amen. (Keep saying this)
My inheritance shall be forever. I shall not be ashamed in the evil time: and in the days of famine, I and my family members shall be satisfied spiritually and financially. (Psalm 37:18-19)
My God supplies all my needs according to His riches in glory through Christ Jesus. (Philippians 4:19) I and my family members shall lack no good thing. In Jesus' name.
Father, Your word says, You shall give your angels charge over us to keep us and guard us in our ways. In the name of Jesus, release Your Holy angels around Pastor Michael, his family, team members and every person connected to Karuna Sadan Ministries. Destroy every work of darkness against them.
Father, let Your peace and righteousness fill our nation. Let all the forces of darkness and destruction against our nation be destroyed. Let the gospel of our Lord Jesus Christ spread in every city and state of India. In Jesus' name.
Most Read
●
Light My Lamp Lord
●
Breaking the Power of Iniquity - II
●
Who's Your Mentor - I
●
Faith: A Sure Path to Pleasing God
●
Born for a Purpose
●
Learn How Peace Can Change You
●
Day 03: 21 Days Fasting & Prayer
➤