Daily Manna
Day 04: 21 Days Fasting & Prayer
Thursday, 15th of December 2022
330
185
2839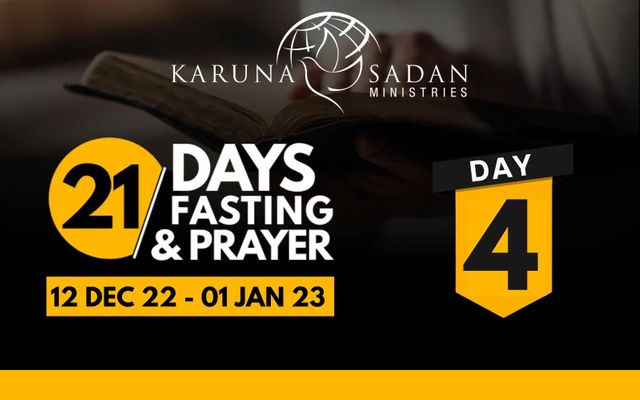 Restoration of Good Things
"And the LORD restored Job's losses when he prayed for his friends. Indeed the LORD gave Job twice as much as he had before." (Job 42:10)
Restoration, in the common parlance of the globe, refers to the process of reverting something that has become outdated, worn out, dilapidated, or broken back to the way it was in the past. However, restoration, according to the Word of God, is different from worldly restoration. According to the Bible, the term "restoration" refers to the process of restoring anything back to its former state but improving upon it in such a way that it is even more, better than before.
None is this more clear than in the story of Job. Job 42:12 says: " So the LORD blessed the latter end of Job more than his beginning."
Whatever the enemy stole—whether it's your health, your financial security, your peace of mind, or anything else that's dear to you—God promises to restore it. Regardless of what the enemy says, Lord Jesus will have the last word because God's will for us is to be restored.
In accordance with the spiritual principles that God has set, when a thief is caught, he is required to pay back sevenfold what he took from us. (Read Proverbs 6:31)The thief comes with the intent to steal, kill, and destroy, but God brings complete restoration to the point where our lives are filled to the brim. He makes everything better than before.
Can the Devil Steal From a Believer?
Yes. The devil works with permission; without access, he cannot steal from a believer (Ephesians 4:27). Here are some of the ways the devil can steal from believers.
1. Disobedience to divine instruction
The devil stole Adam's authority over the earth by getting him to disobey God's instructions. Anytime you disobey God, you are giving the devil a place to steal from you.
The devil will sneak in to steal, kill, and try to destroy you if your thoughts are not in line with God's word. You must cast down those imaginations, thoughts, and knowledge that are in opposition to God's word. (2 Corinthians 10:5). When people think about the wrong things, it affects their confessions and actions.
The devil tried to get Job to say the wrong things to curse God, but Job refused. Careless words and negative confessions give the devil access to steal from you. "You are snared with the words of your lips; you are caught by the speech of your mouth." (Proverbs 6:2)
When God wants to bless you, he sends a man. When the devil also wants to destroy you, he sends a man. You must be careful of the friends you keep and the circle you belong to. Many people have lost good things through wrong associations.
Do not be so deceived and misled! Evil companionships (communion, associations) corrupt and deprave good manners and morals and character. (1 Corinthians 15:33)
Restoration is possible despite the setbacks, losses, suffering, mistakes, and damages you have experienced. satan may take many things away, but the Lord promised to restore everything, and He is capable of restoring everything.
Major Areas of Restoration
Restoration of our union with God
15 I know your [record of] works and what you are doing; you are neither cold nor hot. Would that you were cold or hot! 16 So, because you are lukewarm and neither cold nor hot, I will spew you out of My mouth. (Revelations 3:15-16)
The cares of the world and the deceitfulness of riches have stolen the hearts of many from God. God wants us to be restored to Him because we can do nothing without Him. (John 15:5)
Restoration of our glory and good things
Esau lost his birthright, and it could not be restored to him. Many people are still losing their glory because of food, sex, and temporary gain. Then Jacob gave Esau bread and stew of lentils, and he ate and drank and rose up and went his way. Thus Esau scorned his birthright as beneath his notice. (Genesis 25:34)
You know that afterwards when he wanted his father's blessing, he was rejected. It was too late for repentance, even though he begged with bitter tears. (Hebrews 12:17)
Restoration of wasted years and opportunities
"So I will restore to you the years that the swarming locust has eaten,
The crawling locust,
The consuming locust,
And the chewing locust,
My great army, which I sent among you. (Joel 2:25)
When God restores your wasted years, the profit you would have made during the years and were denied would be added up, with some extra and given to you. Even your memory will become sharper. At 120 years, Moses was still like a youth; his eyes did not grow dim, and neither did his strength diminish (Deuteronomy 34:7). That will be your testimony too!
All the things that brought joy to Job were taken away, but God restored everything to him. "Restore to me the joy of Your salvation, and uphold me by Your generous Spirit." (Psalm 51:12)
Prayer
1. Father, let there be all-around restoration of good things in my life in Jesus' name.

2. I frustrate and terminate the operations of spiritual robbers and spoilers working against my life in Jesus' name.

3. I paralyze the activities of satanic agents destroying good things in my life in Jesus' name.

4. Oh Lord, please restore to me all my lost blessings, helpers of destiny, and virtues in Jesus' name.

5. Father, repair whatever has been damaged in my body and life in Jesus' name.

6. Father, empower me to pursue, overtake, and recover all lost blessings in Jesus' name.

7. Every closed door of blessing be re-opened in Jesus name.

8. Father, reconnect me to helpers of destiny that have disconnected from me, in Jesus' name.

9. I decree, let there be a sevenfold restoration of wealth, blessing, and glory to my life in Jesus' name.

10. Father, send me help from your sanctuary in Jesus' name.
Most Read
●
Crucial Insights on Atmospheres - 3
●
God Opens Great Doors
●
Don't Lose Your Connection
●
Nature of Godly Discipline-1
●
Little Things to Birth Great Purposes
●
Hindrances to Change
●
Operating in the Miraculous: Key #2
➤