Daily Manna
Day 18: 21 Days Fasting & Prayer
Thursday, 29th of December 2022
280
164
3669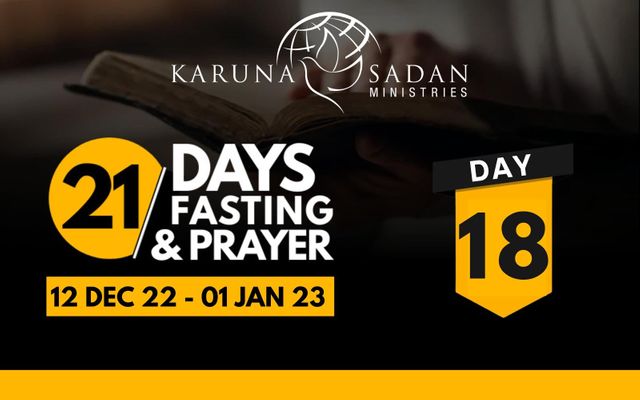 Breaking Curses
"No curse can touch Jacob; no magic has any power against Israel." (Numbers 23:23 NLT)
Curses are powerful; the enemy can use them to limit destinies. There are some mysteries surrounding curses that most believers are not aware of.
Many believers don't know how to rightly interpret the word of God. Galatians 3:13 says that Christ has redeemed us from the curse of the law. What kind of curse did Christ redeem us from? It is the curse attached to the "law of Moses."
There are three major kinds of laws that I want you to understand clearly, which are:
1. The ten commandments. These laws are also referred to as "the law."
2. The Pentateuch, which is the first five books (Genesis, Exodus, Leviticus, Numbers, and Deuteronomy): These are also referred to as "the law."
3. The word of God. Every word that proceeds out of the mouth of God is also referred to as "the law," because God is a King, and every word of a king is a spoken law.
Christ has redeemed us from the laws contained in the Law of Moses. He has also redeemed us from any other ceremonial law that was made for righteousness.
Can a Christian be cursed?
The truth is that a Christian who is in a strong relationship with God cannot be cursed. There are cases where curses can work against a Christian, but that does not mean that the Christian is "directly cursed."
What are the conditions that can make a curse work against a Christian?
Curses can work against a Christian if he walks outside of God's fellowship.
Curses can work against a Christian if he has broken the hedge by living a lifestyle of sin. Since we are not yet 100 percent perfect, it is possible to sin once in a while but when the person has a permanent lifestyle of sin, curses can work against such a person because he has given a place to the devil. (Ephesians 4:27)
A curse can work against a Christian if the Christian is ignorant of his covenant protection, position, and right.
A curse can work against a Christian if the Christian is robbing God or disrespecting the things of God.
A curse can work against a Christian if the Christian is living in disobedience to God.
A curse can work against a Christian if the Christian cannot pray and exercise his authority against curses. It is what you enforce that you enjoy. A Christian must not be passive in spiritual warfare.
If the Christian has cheated others or done evil to others, if they curse him, it can work. There is a reason for the curse to work. There is a legal ground for the curse to operate. (Proverbs 26:2 NLT) says, "…an undeserved curse will not land on its intended victim."
Facts about curses
Curses can determine how fast and how far you can go in life.
Curses are spiritual weapons that can be launched against a destiny.
Curses can lead to sickness, failure, and death.
Curses are opposites of blessings.
When curses are released, if there's no specific time attached, it can run from one generation to another.
Those in positions of authority have the power to curse or bless.
Self-inflicted curses are one of the most dangerous forms of curses.
There is a generational blessing.
There are also generational curses.
Biblical examples of the operation of curses
1. Gehazi and his generation were cursed with leprosy. (2 Kings 5:27)
2. Joshua cursed Jericho. In Joshua 6:26, Joshua placed a curse on Jericho, and about 530 years after, a man named Hiel rebuilt Jericho, and the curse was activated against the man's firstborn and lastborn. (See 1 Kings 16:34)
Either Hiel despised the curse, or he was ignorant of it. Ignorance cannot exempt a man from the negative impact of a curse, which is why a Christian should not feel that ignorance of any existing curse in the bloodline means exemption.
3. Adam was blessed, but his disobedience led to curses. God does not condone sin; He loves the sinner but does not tolerate our careless attitude towards sin. We must fight against sin. (Genesis 3:17-19)
4. Balak and Balaam. Balak hired Balaam; he wanted him to curse the Israelites so that he could defeat them. Balak understood the spiritual effect of cursing anyone and wanted to launch a spiritual arrow (a curse) before engaging them in a physical battle. If Balaam had succeeded in cursing the Israelites, they would have lost out in any physical battle against the Moabites.
How to Break Curses
Spiritually discern if there is a curse at work.
Prayerfully seek divine revelation on the cause of the curse.
Repent of any known and unknown sin that may give a legal ground to the devil and the curse.
Pick a promise of God that you will use as the sword of the spirit. You must search the scriptures and know the will of God. It is the will of God that you knock out the stronghold and operations of the curses.
Apply the blood of Jesus over the situation, and knock out the legal grounds by those curses.
Pray out God's will, and pray for God to intervene. Warfare prayers are needed to bind those demons from operating with the curses.
Exercise your authority in Christ by releasing prophetic decrees and declarations. You must continue to confess blessings that will counter those curses.
Live in holiness. Don't return to a sinful lifestyle.
Curses are powerful, and you must wage war against them in your life. God wants you to destroy the works of darkness that are affecting your destiny, it is your responsibility, and you have the authority. Be angry in your spirit and destroy evil curses issued against your life. I declare over your life that any curse working against your life shall be broken today in Jesus' name.
Prayer
Repeat every prayer missile till it comes from your heart. Only then move on to the next prayer missile. (Repeat it, personalize it, do this with each prayer point for a minimum 1 minute)

1. Any negative covenants working against my destiny be destroyed in the name of Jesus.

2. I break every negative curse from my bloodline in Jesus' name.

3. I disconnect myself from ancestral curses and evil altars in Jesus' name.

4. I take authority over any occultic person cursing me; let those curses be turned into a blessing in Jesus' name.

5. Any curse released against my life, Father, turn them into blessings in Jesus' name.

6. I bind any principality working against my progress and wealth in Jesus' name.

7. I destroy the negative effects of idolatry in my bloodline in Jesus' name.

8. Father, deliver me from any curse that is working against my destiny in Jesus' name.

9. By the blood of Jesus, I neutralize every parental curse against my destiny in Jesus' name.

10. I reject the spirit of failure and decree over my life; I shall succeed in Jesus' name.

11. Power of God, deliver me from every inherited ancestral curse in Jesus' name.

12. Any evil curse blocking good things from coming to me, I break you by the fire of the Holy Ghost in Jesus' name.
Most Read
●
How to Get Fire on the Altar
●
The Joy of Found Sheep
●
Between the Visitation and the Manifestation
●
Dealing With the Roots
●
Why Great Men and Women Fall -2
●
The Code of Living
●
21 Days Fast: Day #8
➤